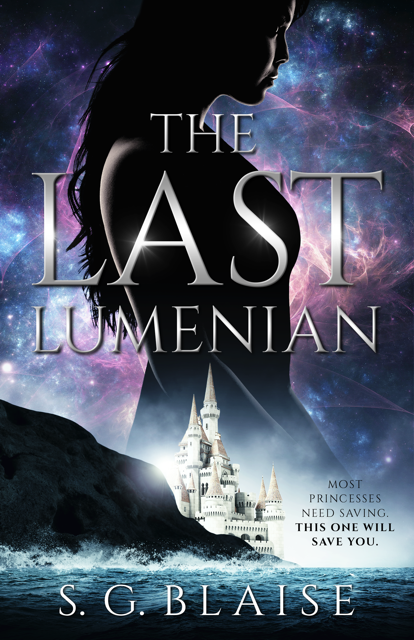 The Last Lumenian by S.G. Blaise
Story Summary:
She is a rebel. Lilla is fighting for the refugees's freedom from oppression. The king, her father, lost touch with reality ever since Lilla's mother died. Now everyone else is paying the price.
The arrival of Callum, a powerful Teryn general, complicates Lilla's life. His presence leads to conflicted feelings and friction with Arrov, a handsome pilot and fellow rebel.
Her life is not what she imagined it to be. Not by far. Meddling gods, love interests and sudden magical abilities have no room in Lilla's world, but that has become her new reality. No matter how hard she pushes them away, it's too late. They all seek to control her anyway.
Now the Era War between two ruling archgods forces Lilla to act: accept who she really is magic and all; find true love; fulfill her destiny by defeating the Archgod of Chaos and Destruction before He finds her. The Last Lumenian.
Amazon Link – https://amzn.to/3gUBBcA
Seattle Book Review:
Lilla is a princess whose father has shifted his rule to the one of a tyrant and it only gets worse when he marries, giving Lilla a new stepmother who has her own wicked agenda. The first action her stepmother takes is to convince Lilla's father to sign a marriage contract that will send her far away. But Lilla has a plan of her own. She's not a princess that waits for events to unfold. She's a rebel who's fighting with her people for their freedom. The handsome general Callum arrives with secrets of his own and charms Lilla in a way she never expected. It doesn't help when her life is thrown into the drama between the gods and a war explodes between two archgods that pulls Lilla into the middle, which pushes her into discovering her own magical potential that will have her pushing her abilities to their fullest. To fulfill her destiny she must prepare to come face to face with the Archgod of Chaos and Destruction. Heralded as a princess with strength and valor, Lilla was given a strong-willed voice and attitude that is woven from SG Blaise delivering a wonderfully dynamic heroine weighed down by her duties as a princess and a rebel. Both sides of her are taken with the same level of detail and with the side given equal precedent as the story progresses. Blaise uncovers various layers of Lilla weaving her between her role as a hero (taking on the Archgod of Chaos)—one as a princess, and one as a rebel. She's fierce and clever with qualities that serve her throughout her journey and guide her into uncovering the different facets of herself. From the first page, you're introduced to Lilla, an established rebel and the crown princess, with the immediate struggle of these two sides driving her. She's torn between the duty she has to her father and her duty to her people, which pulls her to turning against her own crown to become a rebel. Four sides are explored throughout as Lilla is being pulled in these four directions, and each side is an important element for her progression into the hero she's destined to become. The magic Lilla has within her slowly is revealed with her powers pushing her to a path she never predicted and challenging her to become more than the rebel and the princess. This side of herself is the tug to become a hero that is centered on her destiny to fight against a powerful god. Just as Lilla has various elements to her character, Blaise also weaves in several threads of the genre to breathe life into the world and sets this story apart from others with elements of science fiction, fairytale, and fantasy. Blaise blends these various elements together for a unique and original setting with a vibe of fairytales seen through the actions of a wicked stepmother, with her planet crafted around a science fiction mold, and the magic and mythology akin to a fantasy adventure. Each thread that creates this breathtaking world reflects various aspects of Lilla's own personality. The story has grand mythology that's rooted within the actions of meddling gods and the war they pull Lilla into, with her destiny fitted to that of a hero of legend. The story weaves in touches of romance though being part of Lilla's story; her romantic options are not the center of her world. Though, the chemistry with Arrov, as two rebels relying on each other, and friction with Callum creates a delightful undertone to the action-packed moments. The Last Lumenian is an exciting read with a complex heroine with a layered and complex story that takes her from princess to rebel to hero through a journey that consists of magic, gods, war, rebellion, betrayal, and romance.
Reviewed By Elizabeth Konkel https://seattlebookreview.com/product/the-last-lumenian/
AWARDS:
2020 New York Book Festival Winner: Romance Honorable Mention: Science Fiction
2020 San Francisco Book Festival Winner: Science Fiction
2020 Annual Best Book Awards Winner: Best Cover for Fiction
2020 New England Book Festival Winner: Science Fiction
2021 Independent Press Award Distinguished Favorite: Fantasy
Author Info:
S.G. was born in a faraway land of castles, monarchies and fallen dictatorships. Hollywood movies were forbidden under the Soviet oppression during her childhood, but her dad smuggled them in anyway, risking his life so that his children could experience the magic and hope inherent in those stories. She watched rebellions unfold in real time. Journeyed across the Atlantic Ocean for love. She ended up in sunny California, where she is living her dream – writing stories and annoying family members.
Twitter – @SGBlaiseAuthor
Facebook – https://facebook.com/thelastlumenian
Instagram – @sgblaiseofficial