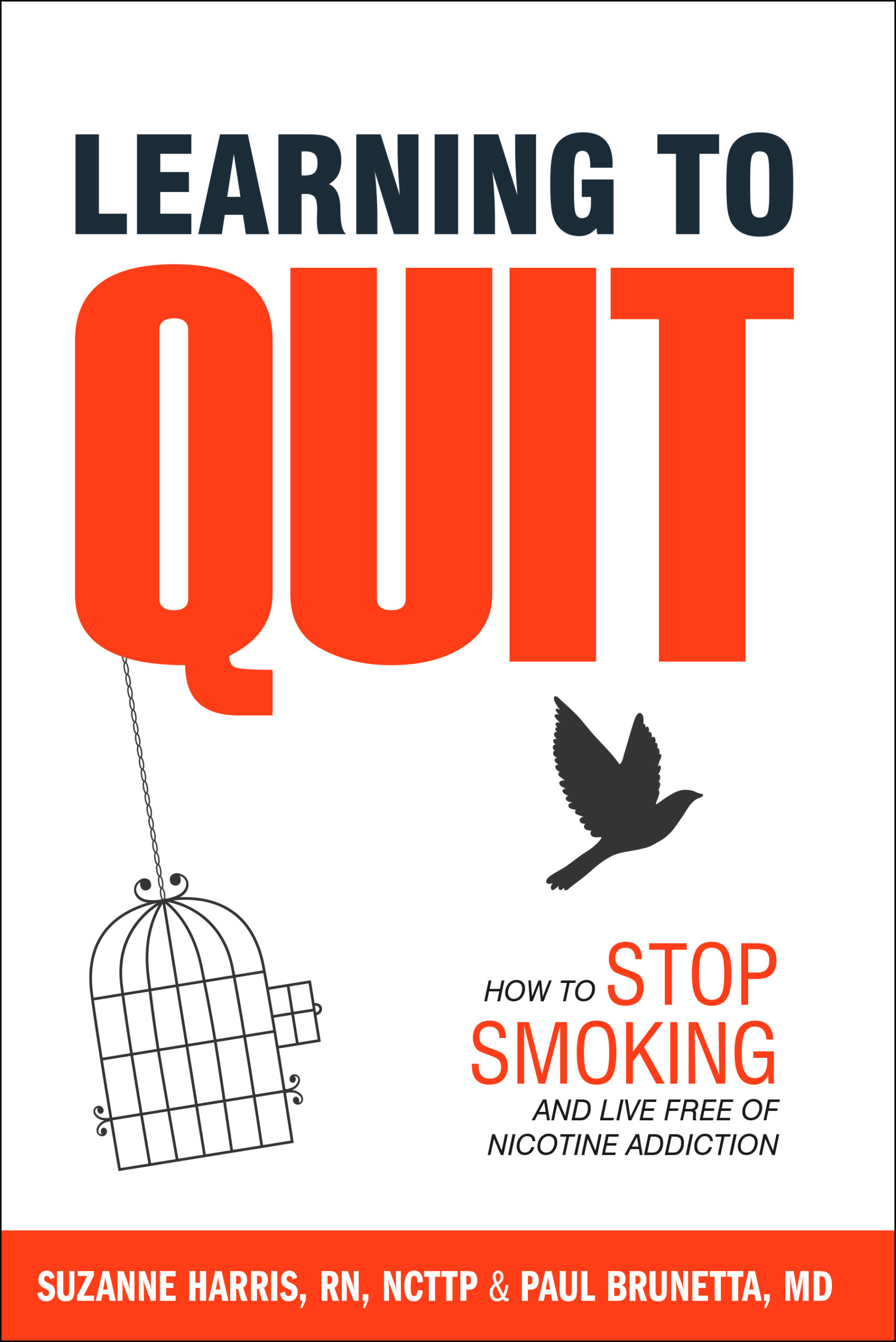 Learning to Quit by Suzanne Harris and Paul Brunetta
Book Summary:
Set yourself free from smoking. Strategy trumps willpower!
Personal stories paired with moving photographic portraits. Empathetic, non-judgmental advice to stop smoking for good.
Have you tried to quit smoking, only to find yourself reaching for a cigarette again and again? Tired of feeling bad about your health and making promises to the ones that love you? Set a "learning" mindset and reframe these past quit attempts as trial runs. It's not your fault that you are a smoker. Nicotine is incredibly addictive, but you can beat it! Your amazing life as a non-smoker lies just around the corner.
This book provides the friendly, positive support you need on your quit smoking journey. Simply by reading this book, you'll take an extremely important step to stop smoking cigarettes and end nicotine addiction. Every person's journey is different, and yours is unique. The work that you're embarking on is shared by the 24 people interviewed for Learning to Quit. Join millions of ex-smokers around the world who have broken free from tobacco.
What's inside the newly expanded and updated second edition:
Frank and honest interviews with ex-smokers
Positive support to meet your quit smoking goals
Customizable and proven quit smoking plan
Strategies to survive your first week without cigarettes
Overview of smoking cessation medicines and quit aids
Information on vaping and eCig alternatives
Advice on how to get through your quit smoking detox
An easy explanation of how nicotine addiction takes control
Tips for dealing with urges
An extensive health information index
How to talk to loved ones about your quit smoking plans
Where to find a smoking support groups
A brand-new mindset for managing relapse
Moving portraits of ex-smokers by photographer John Harding
Becoming a successful non-smoker is about strategy, not willpower.
Maybe you tried Allen Carr's Easy Way to Stop Smoking, but can't make quitting stick.
Trying to stop smoking cold turkey is one of most difficult and least effective ways to quit.
Relying on willpower or piling on guilt doesn't work.
More than fear or negativity, clear and positive motivations for change move us toward freedom from smoking.
This book gives you the best ways to quit smoking.
BONUS: You'll not only learn how to quit smoking; the medical section will equip you with vital health information. Learn how smoking effects your lungs, heart, brain, mood, weight and pregnancy. Explore different smoking cessation medication options. Feel inspired learning how quickly your health and quality of life will improve after you smoke your last cigarette. Learn more about the vaping controversy, plus vaping dangers and health risks.
Suzanne Harris, RN, NCTTP and Paul Brunetta, MD cofounded the Fontana Tobacco Treatment Center and are both former smokers. They've offered assistance to over 1000 smokers seeking help. They specifically developed Learning to Quit share the action plan, knowledge and support you need to take control of your health.
This book is not just about becoming smoke-free, it's also about change; it's about radically changing your life by ending a huge relationship–your tobacco dependence.
This book includes access to an entire library of free resources, including quit plans, mindset exercises, nicotine dependence tests and more!
Book Link – https://amzn.to/2xq5VJd
Reviews:
Kirkus
Two experts on tobacco treatment—Harris, a nurse, and Brunetta (Pulmonary/Univ. of California, San Francisco), a doctor and lung cancer specialist—collect former smokers' stories of how they quit and offer strategies for others who'd like to break the habit.
While working together at the San Francisco Medical Center's Chest Clinic, Harris and Brunetta bonded over their passion for helping patients quit smoking. Together, they founded the UCSF Tobacco Education Center, which hosts a stop-smoking program and a weekly Freedom From Smoking Support Group, and they build on what they've learned from those experiences in this new edition of a 2018 book. They begin with brief profiles of former smokers they met through the support group, photographed by Harding (Streets of Discontent, 2018, etc.), then move on to 235 pages of engaging personal stories by members. Their former smokers had different reasons for quitting, so the accounts vary widely. Each story, however, explores an open-ended question like, "Who would you be without cigarettes?" or "What is your denial story?" in an effort to motivate and inspire readers. For example, one former smoker's "denial story" was that she believed incorrectly that she could not have a heart attack because she didn't smoke very much, remained active, and was a woman. The book subsequently asks readers to think about their own denial stories and provides space in which they can jot down their notes on the subject. The authors go on to explore how smoking relates to health, covering topics like the effects of smoking on lung function and of nicotine on the brain. There's also a timely section on vaping and e-cigarettes. Throughout the book, there are helpful images by debut illustrator Marhofer and tables featuring such things as a comparison of the temporal cortexes of a smoker and nonsmoker and information on nicotine replacement therapies. Useful as that information is, the personal stories—told in former smokers' own words—are what set this book apart from other guides to quitting smoking. Readers who would like to hear from real people who have successfully quit smoking will benefit from it.
A smoking cessation guide with inspiring personal accounts by people who have stopped.
https://www.kirkusreviews.com/book-reviews/suzanne-harris/learning-to-quit-how-to-stop-smoking-and-live-free/
Author Bios:
Suzanne Harris in Her Own Words
When I first started smoking in my early teens, I felt grown up and powerful. Awkward, shy, and taller than all my classmates, I used cigarettes to mask my discomfort and find my place as a rebel. Years later as a nurse working in an inpatient cancer unit, I found that smoking had become a terrible burden and source of shame. I instinctively tried to abuse myself into stopping, berating myself for being stupid and weak; why else would I continue to do something that was in such conflict with being a good nurse and mother?
In finding my way to becoming a non-smoker, I developed some of the skills that are now in the pages of this book. Then, in 1984, I had the great good fortune to secure a position in an outpatient clinic in San Francisco, including working in the county hospital chest clinic for people with pulmonary diseases. There I saw the terrible toll smoking took on the health and psyche of our patients. I saw in my patients the same fear, defiance, and shame that I had felt as a smoker. So my experience first as a smoker and subsequently as a nurse has given me a dual perspective on tobacco dependence.
For me, stopping smoking involved developing a different relationship with myself, a relationship of love and respect rather than bullying and low self-esteem. And for the people I have worked with and learned from over more than 30 years of working in the field, a key for most has been to identify something they wanted more than a cigarette, and to go after that. In the process of that redirection, they came into a kinder relationship with themselves, just as I did.
Over the years, colleagues have expressed surprise that I would continue to find the work of a tobacco treatment specialist to be so engaging. In fact, the process of becoming non-smokers is rich with opportunities for transformation and empathy. Because smoking is interwoven with so many aspects of a smoker's life, removing that thread opens a person to experiencing parts of themselves that have been ignored or unexplored. People discover strengths and gifts they did not know they had. I derive deep satisfaction supporting the single most important change a person can make to ensure a better future for themselves and the people they love: stopping smoking.
Paul Brunetta in His Own Words
My first cigarette at age nine was such a powerful experience that I can clearly remember it decades later. For kids, watching adults smoke creates a certain fascination with cigarettes and sends a strong signal that it's what adults do. I remember Marlboro Man billboards and other positive images of smokers that were reinforced through TV and print advertising and movies in the 1970s as I grew up. In high school, I looked forward to smoking at beer-filled weekend parties. It strengthened a bond with one of my best friends, Brian, as something we shared that our other friends didn't. Later, as an undergraduate in an intense pre-med program at Johns Hopkins University, I began to smoke regularly and realized that I was addicted. It took many attempts to stop, but with a high level of motivation I eventually did and developed a lifelong interest in nicotine addiction and tobacco related disease.
In my Pulmonary and Critical Care Fellowship at UCSF, I came across a kindred spirit in an amazingly talented and dedicated nurse named Suzanne Harris. Suzanne and I worked together in the Chest Clinic at San Francisco General Hospital, and, together, we cared for a constant stream of patients with tobacco-related COPD and heart disease and lung cancer. This was mirrored in my rotations through the VA hospital taking care of great veterans who had survived battles for our country but were sickened by long-term tobacco use. Suzanne ran a Group at SFGH, and I asked to sit in. It was one of those moments when you realize you're in the presence of a master doing something very difficult but making it seem effortless. As a former smoker, Suzanne was uniquely able to connect with people in Group with such profound and non-judgmental empathy, but was also able to guide them toward the next step in a quit plan. When I joined the faculty in the Thoracic Oncology Program focused on lung cancer, early detection, and tobacco education, we were able to find some limited funding from the Mt. Zion Health Fund to create the Tobacco Education Center and hire Suzanne part-time. I eventually left this position to work in biotechnology as Suzanne continued Group. And, years later, in 2009, a fantastic Group participant named Jeannie Fontana generously donated seed money that allowed for the creation and ongoing survival of the Fontana Tobacco Treatment Center.
Suzanne and I have been working on this book in one form or another for more than 10 years. We hope you gain a deep understanding of these people on their journey toward better health. And Part 2 of the book has health information and smoking cessation medication knowledge in clear language that can be critical on your own journey away from nicotine addiction. We hope this book is useful to anyone looking to improve their health or improve the lives of a loved one who is dealing with nicotine addiction.
More info: http://www.learningtoquit.com/about-the-authors/
You can start reading Learning to Quit for FREE at www.LearningToQuit.com/free